Eviction of Chavez Ravine Residents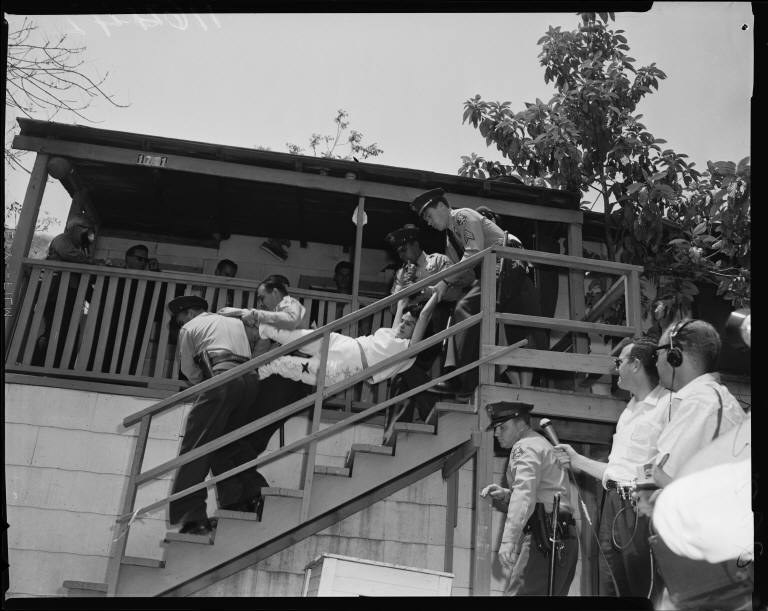 The fight to preserve affordable housing and prevent displacement is a historic one in Los Angeles, as it is across the nation. One of the most famous stories is that of the residents of the communities of Palo Verde, La Loma, and Bishop that made up Chavez Ravine, which is located 2.5 miles north of Azusa Street.
This tight-knit Mexican-American community near downtown was promised new and modern low-cost housing would be built on their land. The Housing Authority then issued eviction notices to the Chavez Ravine residents, promising the families that they would have first choice of the new housing once the development was completed. The Chavez Ravine residents who sold their property to the Housing Authority soon discovered that they had limited choices of where to relocate. Many residents chose instead to ignore the eviction notices and squat on their own property.
It was a time when the public was fed a steady diet of red baiting and racism as the House on Un-American Activities waged a destructive war on civil rights. The LA business power structure didn't care for the idea of spending millions on developing real estate for poor people only to give it back to them for a pittance. The city purchased the land at a huge discount in 1949. The single stipulation to the agreement was that the land had to be used for the good of the public.
In 1958 LA voters passed Proposition B, which gave the land to the Brooklyn Dodgers who were relocating to Los Angeles. On May 8, 1959 the LAPD arrested the remaining residents in Chavez Ravine, forcibly dragging many from their homes. Bulldozers began flattening every structure in their path. On April 10, 1962 the Dodgers played their inaugural game at the new stadium in Chavez Ravine.
The photograph on the left shows Los Angeles County Sheriffs forcibly evicting Mrs. Aurora Vargas, 36, from her home at 1771 Malvina Avenue in Chavez Ravine, which was 2.5 miles north of Azusa Street.
---