Spirit Walk Project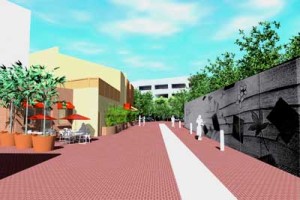 Azusa Street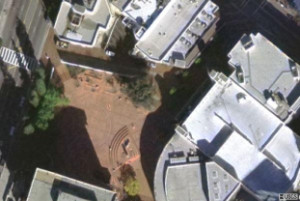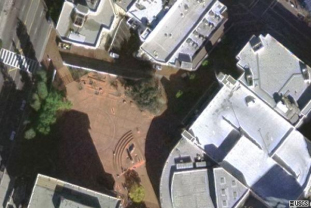 Aerial view of the JACCC Noguchi Plaza and
Azusa Street upper end of photo
The Azusa Street SpiritWalk Project will become one of the greatest spiritual tourists destinations for Los Angeles, and Little Tokyo will be known as the "Spiritual Door to the World" for the City of the Angels. As the city grew from a little pueblo in the desert, churches were established around the civic center area. The Buddhists, Catholics, Protestants, Jewish, and Pentecostals were all part of the spiritual birth of this emerging young city and today, it is part of a megapolis with over 10 million people living and working in the "Jewel of the Pacific."

312 Azusa Street Mission and Pastor Seymour
and members of the Pentecostal Church
(Image courtesy of Los Angeles Public Library)
Of historical significance is the 312 Azusa Street Mission address. It is the Birthplace of the Pentecostal Movement, founded by William Seymour, a humble, uneducated son of former slaves, on April 14, 1906. Today, the Movement embraces over 600 million followers throughout the world and is one of the fastest growing religious organizations in the history of mankind, according to "The Life Millennium: The 100 Most Important Events & People of the Past 1,000 Years." On April 25-29, 2006, over 100,000 members will come to Los Angeles to celebrate the Azusa Street Centennial, "The Spiritual Experience of a Lifetime."
Today, Azusa Street is used as a service alley for delivery and trash removal trucks. The 312 Azusa Street address is a blank gray concrete wall. Except for a modest sign, very few worshippers are able to find the street where the Azusa Street Mission Revival occurred. The Little Tokyo Azusa Street Memorial Committee is proposing to develop an Azusa Street SpiritWalk Promenade to commemorate the importance of the street to Little Tokyo and Los Angeles. Under the leadership of Bill Watanabe, Executive Director of the Little Tokyo Service Center, the committee has been meeting for over 10 years to create an appropriate memorial for this historical site as well as help Little Tokyo capitalize on the potential tourists trade. The Azusa Street Centennial 2006 is crucial for solidifying the Azusa Street as "The Mecca for the Pentecostal Movement."
Request for $25,000 Feasibility Study
The $25,000 grant from the Tom Bradley Foundation will be used to hire a development consultant to prepare a specific plan for the redevelopment of Azusa Street. Additional funds are being raised from the Pentecostal Church, the Community Redevelopment Agency, Block 8 development, and an in-kind contribution from the Japanese American Cultural and Community Center.
Mayor Bradley's Involvement in the Azusa Street project and the Isamu Noguchi Plaza Development
Isamu Noguchi explaining to Mayor Tom Bradley about the development of the plaza (Image courtesy of Los Angeles Public Library)
In 1980, Isamu Noguchi proposed to Mayor Bradley the development of a plaza rather than a theatre on the historical 312 Azusa Street Mission site. The knowledge or the significance of the site as the birthplace of the Pentecostal Movement was never known, mentioned, nor discussed in any of the deliberations. At the urging of Isamu Noguchi to create a plaza, Bradley provided the leadership in convincing the Japanese American community leaders to consider Isamu Noguchi's proposal. Thanks to Mayor Bradley's commitment of a million dollars, Isamu Noguchi's vision was realized. Thanks to Noguchi, 312 Azusa Street can have an appropriate monument in order to acknowledge the Birthplace of the Pentecostal Movement.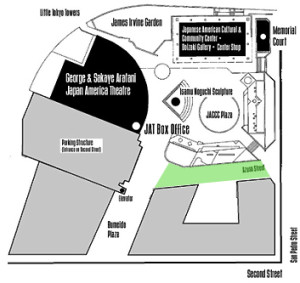 Site plan of the JACCC Campus and the Azusa Street location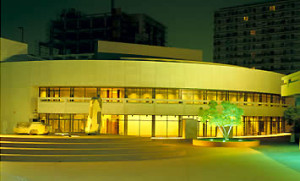 Photo of the Noguchi Sculptures "To the Issei" and the Japan America Theatre
---