Grapefruit Planting Ceremony on Azusa and San Pedro Streets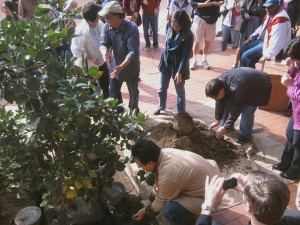 On December 8, 2012 at the corner of Azusa and San Pedro, several community groups came together to plant a grapefruit tree to replace one that had been lost. Japanese Americans, Skid Row community activist, Native Americans, Azusa Street Revival members and Pentecostals came together to celebrate this new tree together, inviting everyone to participate by adding a scoop of soil to the newly planted tree.
In 2004, the last remaining tree from when the site was a fruit orchard was accidently killed with hot cooking oil. It was a 125-year-old grapefruit tree, which still bore fruit and was beloved by the local communities. This planting ceremony marks an important time of community-building and community-bridging along Azusa Street. At this time, Los Angeles had 3,857,799 residents.
---